Forty, Fluffy, and Fabulous
What do you do when your personal life is as dull as a butter knife?

Ready to shake things up, Brandy Douglas takes off on a spontaneous adventure. On her way to Las Vegas, things don't go quite as expected. Instead, she finds herself in Dallas, in the arms of a sexy cowboy who gives her a little something extra to remember him by.

Once back home, Brandy's forced to make choices that will forever change her life. At forty, she's not so sure she's ready to start over. Can her sexy cowboy convince her otherwise?
Out Now:
Looking for fun, heartfelt romantic comedies? With four hysterical and delightful stories, you can't go wrong. This boxed set makes for a great value.
If you love realistic women and page turning stories, you'll love laughing all the way through this special bundled set of romantic comedies.
Take a spin with Tornado Allie. She'll send you whirling with her catastrophic chaos. Have you been curious about online dating? You'll want to read Big Flirt to see what happens when Lola meets an unexpected guy. Running on Empty is the story of a woman that will do just about anything to be noticed by one hot and hunky guy. Lastly, Country Curves starts with a diva that's in trouble. When help comes calling, she's not so sure she wants it.
BOOK 1 – "Flirting with Disaster"
We stopped pretending to dance, barely swaying in rhythm, too busy molding our bodies together. His hard planes fit against my plentiful curves. The sweetness of it all took my breath away…
Barbara Johnson dreaded going home. Ocean Crest only held painful memories. She didn't want the revenge she was about to get.
The last thing Ryder Bishop expected was to fall for the enemy. Could he claim her without betraying his own?
Were they both flirting with disaster?


Book 2 – Flirting with Deception
Gia's body was soft and warm, curvy in all the right places, and padded to perfection. I loved that feminine detail, the one that spoke of her sensuality and had my body pushed to the limit with a need to devour her. She wrapped her legs up around me. Everything felt right. This was where I belonged. We moved in sync, a rhythmic dance taking us to the edge.
Strong and stubborn, Gia struck out on her own. Little did she know that Ocean Crest was forbidden territory or that her harmless deception would create such chaos.
Devoted to New Jersey and the Ocean Crest project, Hunter thought reuniting with his high school sweetheart made everything fall into place. Until he started working with Gia. Boundaries are tested as the story continues in Ocean Crest, New Jersey.
Book 3 – Flirting with Danger
Isabella's body shook, and for an instant she forgot how to breathe. She jerked her head back against the wall and looked into my eyes, her mouth forming a perfect circle, "Oh!"
Isabella had plans, big ones for her future, but she also had a family. Forced to choose between her dreams and saving her father's life, Isabella was thrust into the arms of a stranger.
Gino craved money and power. Consumed with ambition, Gino would stop at nothing to get what he wanted. Climbing the ladder to become a Mafia boss, he never imagined that his lust for Isabella would be his downfall.
Driven to Temptation
This wasn't good. Nick wasn't the kind of guy I wanted to be trapped in a car with. Insufferable, he pushed every button I had – and not in a good way. All signs pointed to disaster.
When Nick's lips brushed against mine, it threw me for a loop. This wasn't supposed to happen! He was everything I avoided. His bad boy attitude and reputation left me cold. Forced to admit growing feelings, I lied to myself. It was easier. If I gave in, my life would never be the same
Contemporary Western Romance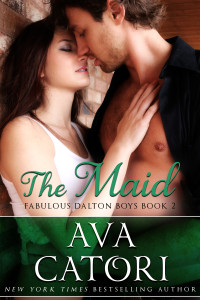 Cage Dalton's reputation crashed to the floor and crumpled at his feet. The tabloids and media frenzy couldn't get enough of the Dalton brothers. Scandals and mishaps made the billionaire brothers popular headline material. In a bid to turn things around, the triplets hired a PR Adviser to do damage control. Can they stay out of trouble long enough to make a difference? Or will their family's legacy go down in shambles like it had in the past? When three very different women enter their lives, the triplet brothers find themselves challenged in ways they hadn't imagined.
Brooklyn Rivera's world shattered. Forced to pick up the pieces of her life, she needed to crawl before she could walk again. Desperate and alone, Brooklyn must learn to stand on her own two feet. Her lavish lifestyle was no more. The cars, the mansion, and the money were all gone. With her father sitting in a federal penitentiary, and all their family assets seized, Brooklyn Rivera was in a bind.
When Cage offered her a position as the new Dalton maid, she grudgingly pushed her inner diva aside. With her dignity on the floor, Brooklyn takes the job. Through friendship, laughter, and pain, Cage and Brooklyn travel a bumpy road in search of something more. Can they find love, or will they only end up hurting each other?