My co-author, Olivia Rigal, a dear friend and incredibly talented writer and I have teamed up to bring you something special. "Flirting with Disaster" – the first book in the "Flirting with Curves" series.

We stopped pretending to dance, barely swaying in rhythm, too busy molding our bodies together. His hard planes fit against my plentiful curves. The sweetness of it all took my breath away…

Barbara Johnson dreaded going home. Ocean Crest only held painful memories. She didn't want the revenge she was about to get.
The last thing Ryder Bishop expected was to fall for the enemy. Could he claim her without betraying his own?
Were they both flirting with disaster?
BIG NEWS — BOOKS 2 and 3 AVAILABLE SOON! Early 2016
Plush Daisies – All 3 stories, with a NEW COVER!
Becky. Sam. Winnie. Bad Kitty. Mr. Bunny…and so much more!
Enjoy three hilarious romantic comedies in one bundle! Full-figured friends, crazy antics, realistic situations, and hot guys all come together in the Plush Daisies series. These curvy girls have full hips, soft bellies, and are well above a size 5. Shopping at plus-size stores, dealing with insecurities about size, and overcoming their issues, Becky, Sam, and Winnie will steal your heart. Grab your copy today for laugh-out-loud fun.
Prepare yourself for moments that will leave you breathless with laughter and anticipation. Plush Daisies offers three stories about love, romance, and so much more. Becky and Reed fight a growing attraction, even while Becky is convinced a hot guy like Reed couldn't love a big girl like her. Opposites attract when Sam and Christopher come together in a forced proximity. And Winnie and Butch must overcome their anxiety and past rejections to realize love isn't always perfect, but it's still out there. Plush Daisies is a fun ride full of happy endings.
Contemporary Western Romance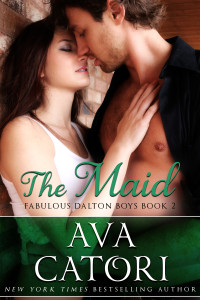 Cage Dalton's reputation crashed to the floor and crumpled at his feet. The tabloids and media frenzy couldn't get enough of the Dalton brothers. Scandals and mishaps made the billionaire brothers popular headline material. In a bid to turn things around, the triplets hired a PR Adviser to do damage control. Can they stay out of trouble long enough to make a difference? Or will their family's legacy go down in shambles like it had in the past? When three very different women enter their lives, the triplet brothers find themselves challenged in ways they hadn't imagined.
Brooklyn Rivera's world shattered. Forced to pick up the pieces of her life, she needed to crawl before she could walk again. Desperate and alone, Brooklyn must learn to stand on her own two feet. Her lavish lifestyle was no more. The cars, the mansion, and the money were all gone. With her father sitting in a federal penitentiary, and all their family assets seized, Brooklyn Rivera was in a bind.
When Cage offered her a position as the new Dalton maid, she grudgingly pushed her inner diva aside. With her dignity on the floor, Brooklyn takes the job. Through friendship, laughter, and pain, Cage and Brooklyn travel a bumpy road in search of something more. Can they find love, or will they only end up hurting each other?
If you'd like to join my mailing list, you can sign up here.